The Bnai Zion Medical Center is a municipal-governmental hospital, which provides excellent medical service and a caring touch to the patients from all over the world. Per year Bnai Zion hosts 142 thousand visits to its 65 hospital-based clinics and conveys 14 000 surgeries.
Client`s challenge
Hospital maintenance requires large amounts of heated water or steam to support all the scope of medical and hygiene needs like
sterilization
humidification
heating
hot water for tap and shower
cleaning linen and clothes in the hospital laundry.
Bnai Zion chose the steam option, because it allows to deliver the high volumes of heat to its multiple destinations and keep all the essential health care accomplished in a most efficient way.
Key problems
Water impurities cause various problems with the boiler, quality of feed water for it should be carefully adjusted to maximize the whole system efficiency. Main threats are water hardness, iron and silica. Heated hard water forms scale, which is a problem in several dimensions:
Heat loss
Scale on the inner surface of pressure part (tube and header) blocks heat transfer which impacts the amount of heat loss, even 2 mm thick scale accounts for loss of 2-3%.
Corrosion
Corrosion occurs when scale composition forms compounds with metal tube or header.
Overheating
Water flow in inner tube as well carries a cooler function, as the temperature of water is lower than the temperature of firing. If scale occurs on inner surface of tube, cooling function is reduced, and metal temperature will be higher than estimated, which leads to overheat and damage of the pressure part.
Fuel costs
Heat loss requires more fuel to boil the same amount of water.
Solution
Sophisticated process design incorporates ultrafiltration pretreatment stage with a single pass RO system as the same skid "Plug & Play" unit.
The ultrafiltration pretreatment stage is a prerequisite to increase the RO system efficiency and extend its working lifespan with lower maintenance costs and energy consumption.
The combined result of ultrafiltration and reverse osmosis is a constant high-quality feed water free from microbiological, chemical and physical contaminants.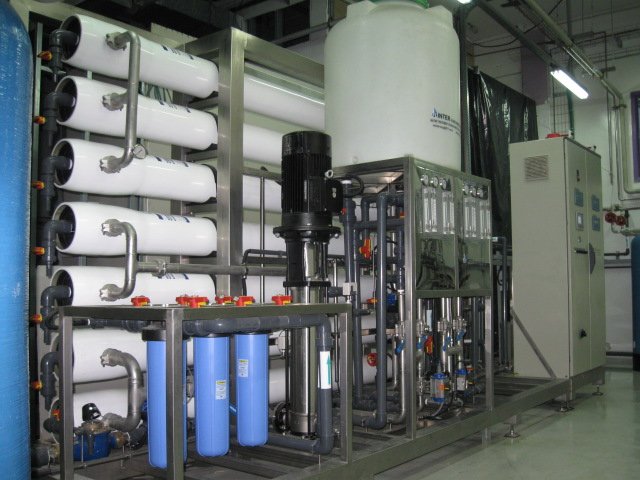 Project data
Capacity: 15 m³h (131,400 m³/year)
Process: UF – RO
RO recovery: 75% - 80%
Salt rejection: 95% – 98%
UF rejection capabilities:
Pore size: 0.01 µm
Viruses: 4 log
Bacteria: > 6 log
Features
Low footprint
Ultrafiltration as the RO pretreatment stage
Easy maintenance
Maintenance services by in-house team