The organization Fondazione Siniscalco Ceci Emmaus Onlus pursues the goals deriving from its founding charters by working in the social, welfare and health fields to serve the community, in particular in favour of the poorest and most vulnerable people, especially minors and migrants.
The Foundation also manages one of the largest organic farms in the Capitanata area with 570 hectares already under organic cultivation (70 in conversion) between Foggia, Manfredonia and Lucera (in the province of Foggia). This is a large slice of agricultural property destined to become entirely organic within a few years.
Casa di Abraham e Sarah is located in Località Torre Guiducci (countryside of Foggia). It is a property consisting of several buildings that has been hosting services for migrants since 2013. Specifically, there is a reception centre and a large accommodation building.
Villaggio Don Bosco is the operational headquarters of the Foundation, the administrative and connection center; it houses various facilities.
Key challenge
The only water resource is brackish well water (1129 μs/cm) from a groundwater, with a temperature of approximately 18°C. Following the well water sampling, the chemical-physical and bacteriological analyses show non-compliant values. In particular: nitrates equal to 152 mg/l, chlorides equal to 291 mg/l, viable microorganisms at 22°C equal to 120 CFU/ml, viable microorganisms at 36°C equal to 56 CFU/ml and coliform bacteria equal to 32 CFU/100 ml.
Customer goal
Supply the Don Bosco facility with water for drinking and cooking. The customer's request was 600-700 litres per hour.
Solution
The Foundation entrusted Cristal Water Group S.a.s.with the task of creating an efficient water filtration and purification system.
The proposed and installed system is structured as follows:
→input: well water
Sand Filter
Antiscalant with pump
Aquaphor Professional OSMOSIS SYSTEM APRO-1000-SST osmosis unit
Chlorination with pump
Remineralization with pump
Protective filming agent with pump
Permeate water storage tanks
UV lamp
←output: permeated water for the consumer
Sand filtration with high-purity natural clinoptilolite zeolite-based granules and granules consisting of an aluminous-silicate mineral with high surface area that provide exceptional filtration of suspended solids down to 5 microns. The granules used incorporate tension, ion exchange, sedimentation and flocculation to produce crystal clear water down to <0.1 NTU turbidity.
The antiscalant, dosed with a metering pump, controls and inhibits the precipitation of salts such as calcium carbonate, magnesium carbonate and magnesium hydroxide.
The Aquaphor Professional SYSTEM APRO-1000-SST nominally provides 1000 litres per hour at a temperature of 25°C.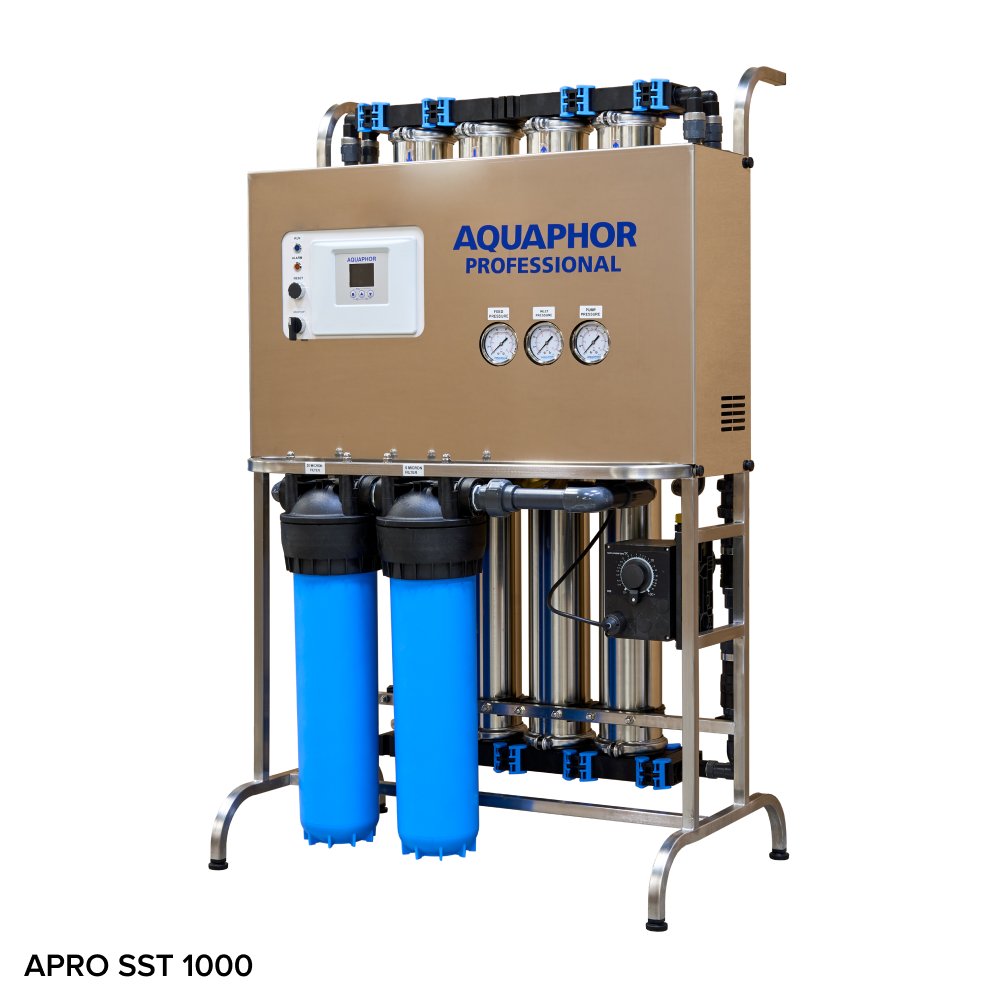 Project data
Capacity: 1000 litres/h
Process: RO
RO recovery: up to 95% (in this case study, the operational recovery is 80%)
Salt rejection rate: up to 95%
Features
High energy and water savings thanks to patented technologies
Solid and fully automated
Innovative pre-filtration system
Low operating cost
Long life service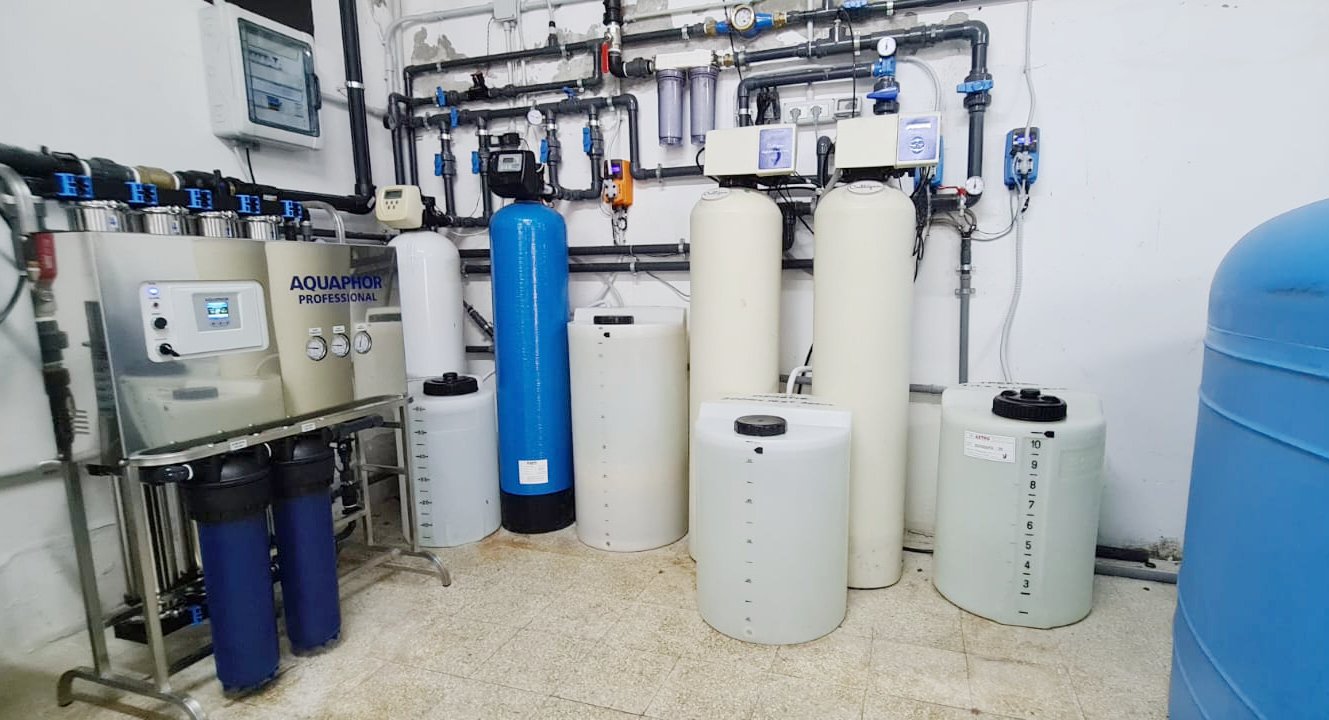 Subsequently, 14-15% sodium hypochlorite, dosed with a metering pump, has a high reactivity and oxidizing capacity and easily combines with the oxidizable organic and in organic substances in the water, effectively disinfecting the treated water.
The demineralizing product based on calcium chloride, dosed with a metering pump, reintroduces in a balanced manner few components that are essential to the body, mainly sodium, calcium, chlorides and carbonates, which represent the elements naturally present in water and which make it pleasant and chemically complete for human use.
The protective filming product, dosed with a metering pump, is a stabilizing treatment consisting of a mixture of food-grade polyphosphates that has the property of preventing corrosion and scaling in drinking water distribution lines. The active ingredients prevent the aggregation of calcium carbonate crystals that would tend to form hard encrustation and protect all metal surfaces exposed to the water to be treated by means of a strong filming action that provides protection against corrosive-type phenomena.
The UV lamp is capable of neutralizing 99.9% of bacteria in water. UV-C radiation, with a wavelength in the 240 to 280 nanometer range, attacks the DNA of bacteria, viruses and microorganisms.