Acquafantasy is a modern water park located in Lesina Marina, North Apulia, Italy. With its innovative and functional design, the facility offers a wide range of environments and equipment that allow visitors to spend pleasant days relaxing and having fun, in maximum safety and in absolute compliance with the hygiene standards required by the applicable regulations.
Key challenge
The only water resource is brackish well water (1493 μs/cm) from an underground aquifer. The average temperature is 18°C. Following the well water sampling, the chemical-physical and bacteriological analyses show non-compliant values. In particular: nitrates equal to 26.6 mg/l, chlorides equal to 52.7 mg/l.

Customer goals:
Ensuring that all guests can visit the water park safely.
Avoid water rationing or reduced opening hours as a result of water shortages due to droughts in the area.
Solution
Acquafantasy Srl entrusted Cristal Water Group S.a.s. with the task of creating an efficient, energy-saving and low-cost water purification system that would achieve all the set goals.The final work, studied and evaluated on the basis of well water analyses as well as the customer's requirements, was anticipated by a technical project.

Together with Aquaphor, the solution chosen was:
→input: well water
Storage with chlorination in tanks
Sulphite dechlorinating agent with pump
1 micron glass filtration
Chlorine presence alarm unit
Antiscalant with pump
2 osmosis units Aquaphor Professional REVERSE OSMOSIS SYSTEM APRO-6000-D-SST
←output: permeated water for the consumer
14-15% sodium hypochlorite, dosed with a metering pump, has a high reactivity and oxidizing capacity and easily combines with the oxidizable organic and inorganic substances in the water, effectively disinfecting the treated water.
The sulphite-based dechlorinating product protects against oxidation, removes traces of chlorine and protects osmotic membranes from damage caused by chemical oxidation; it also acts as a steriliser and sanitizer.
Glass filtration with sterilizing surface is capable of removing 95 per cent of all particles down to 1 micron such as organics, heavy metals, lipids, fats, oils, pharmaceuticals and microplastics through its advanced adsorption properties.
The control unit set on detecting an exact chlorine value will sound an alarm in case of excess of the product.
The antiscalant, dosed with a metering pump, controls and inhibits the precipitation of salts such as calcium carbonate, magnesium carbonate and magnesium hydroxide.
The two Aquaphor Professional osmosis units model APRO-6000-D-SST nominally achieve 12 000 litres per hour at a temperature of 25°C.
The RO system is designed to remove organic impurities and reduce the total salt content of water from municipal water (as in the present case) and local supply systems (from well, brackish or sea water) in line with the requirements.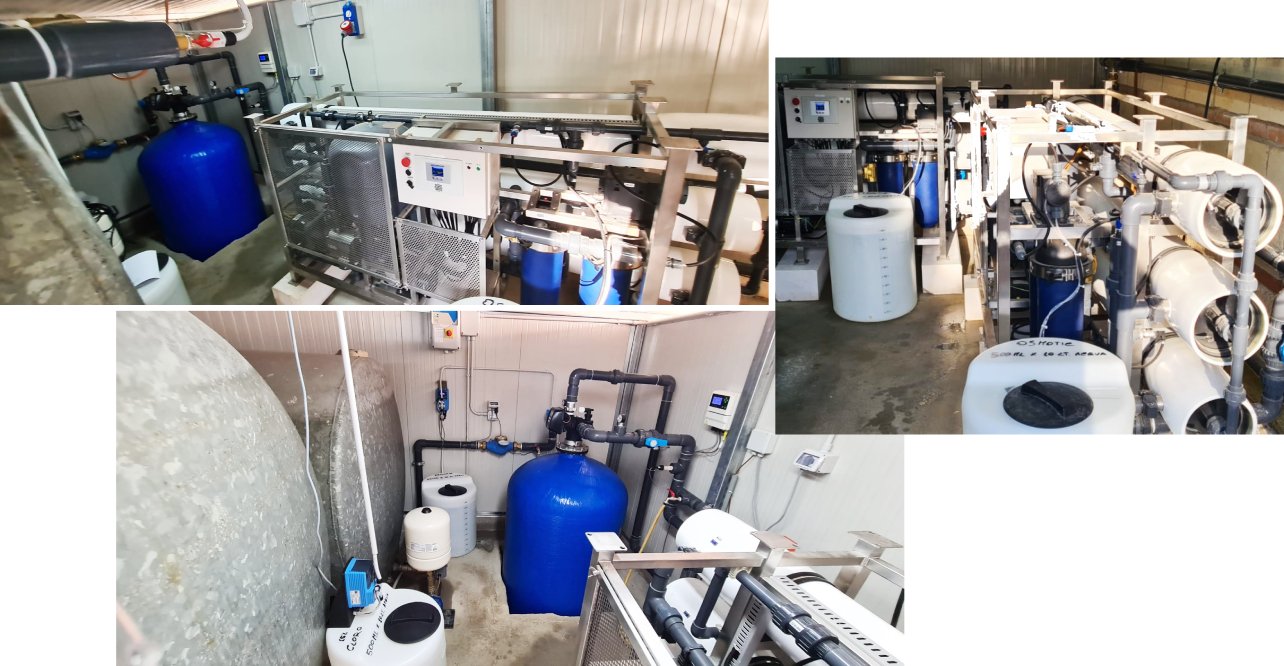 Project data
Capacity: 6000 liters/hour
Process: RO
RO recovery: up to 95%
Salt rejection rate: up to 98%
Features
Patented high-frequency discharge
Extremely low energy consumption
System operates in fully automatic mode with remote control
Solid construction and easy maintenance
Silent operation