Approdo di Venere is located in the centre of Vieste, in the most extreme part of the Gargano overlooking the Adriatic Sea.

The Approdo di Venere hotel and restaurant is named after the legend of Venus Sosandra (Goddess of the sea who saves men). Here Diomedes saved himself from the wrath of Zeus. In fact, legend has it that Diomedes, travelling in the Adriatic, was persecuted by Zeus, who wanted his death. To his rescue, right in front of the 'Marina Piccola' of Vieste, came the goddess Venus Sosandra who saved Diomedes and his followers.
The Hotel's politeness and hospitality envelop its guests, offering them a holiday of comfort, relaxation and good, traditional Apulian food. At the reception, you can book any experience this area has to offer: visit the sea caves, spend a day at the Tremiti Islands or hike through the UNESCO World Heritage beech forests in the Gargano National Park.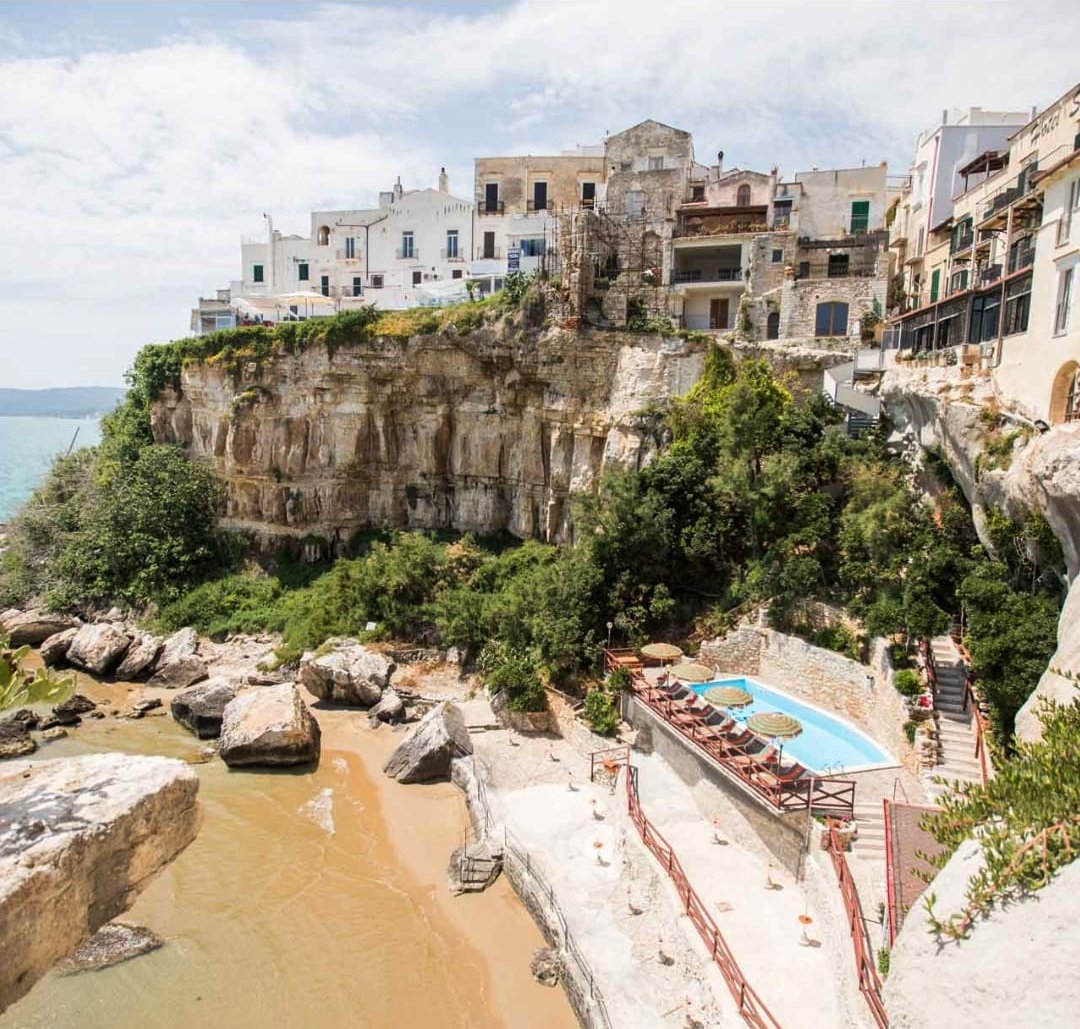 Key challenge
The only water resource is brackish well water (1320 μs/cm) from an aquifer, with a water temperature of approximately 18°C. Following the well water sampling, the chemical-physical and bacteriological analyses show non-compliant values. In particular: chlorides equal to 862 mg/l.
Customer goal
Provide the Approdo di Venere hotel with water for drinking and cooking.
Solution
Approdo di Venere entrusted Cristal Water Group S.a.s. with the task of creating an efficient water filtration and purification system. The final work, studied and evaluated on the basis of well water analyses as well as the customer's requirements, was anticipated by a technical project.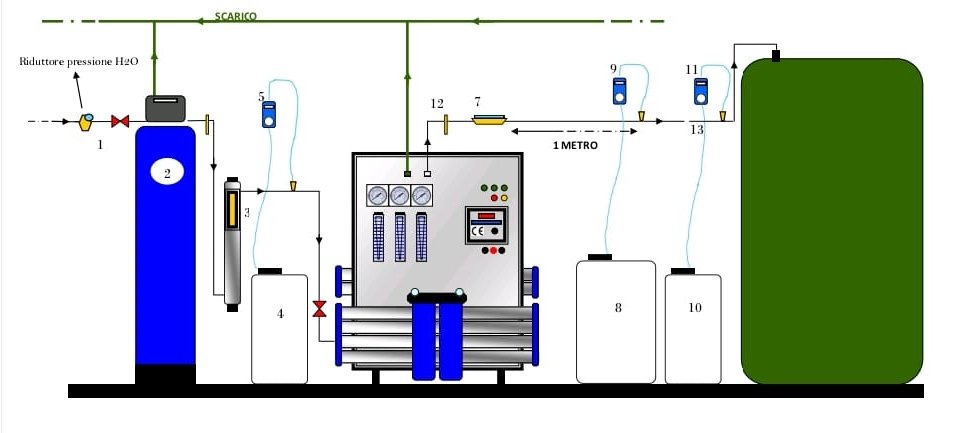 The system proposed and installed at the facility is structured as follows:
→Inlet: well water
Pressure reducer
Sand filtration
UV lamp
Antiscalant with pump
Aquaphor Professional RO-SYSTEM APRO-L-1500-32X-G osmosis unit
Chlorination with pump
Remineralisation with pump
LDOSIN PLUS 90-240V tool
Permeated water storage tanks
←Outlet: user
Sand filtration with high surface area aluminosilicate granules provide exceptional filtration of suspended solids down to 5 microns. The granules used incorporate tension, ion exchange, sedimentation and flocculation to produce crystal-clear water down to <0.1 NTU turbidity.
The UV lamp is capable of neutralizing 99.9% of bacteria in water. UV-C radiation, with a wavelength in the 240 to 280 nanometre range, attacks the DNA of bacteria, viruses and microorganisms.
The antiscalant, dosed with a metering pump, controls and inhibits the precipitation of salts such as calcium carbonate, magnesium carbonate and magnesium hydroxide.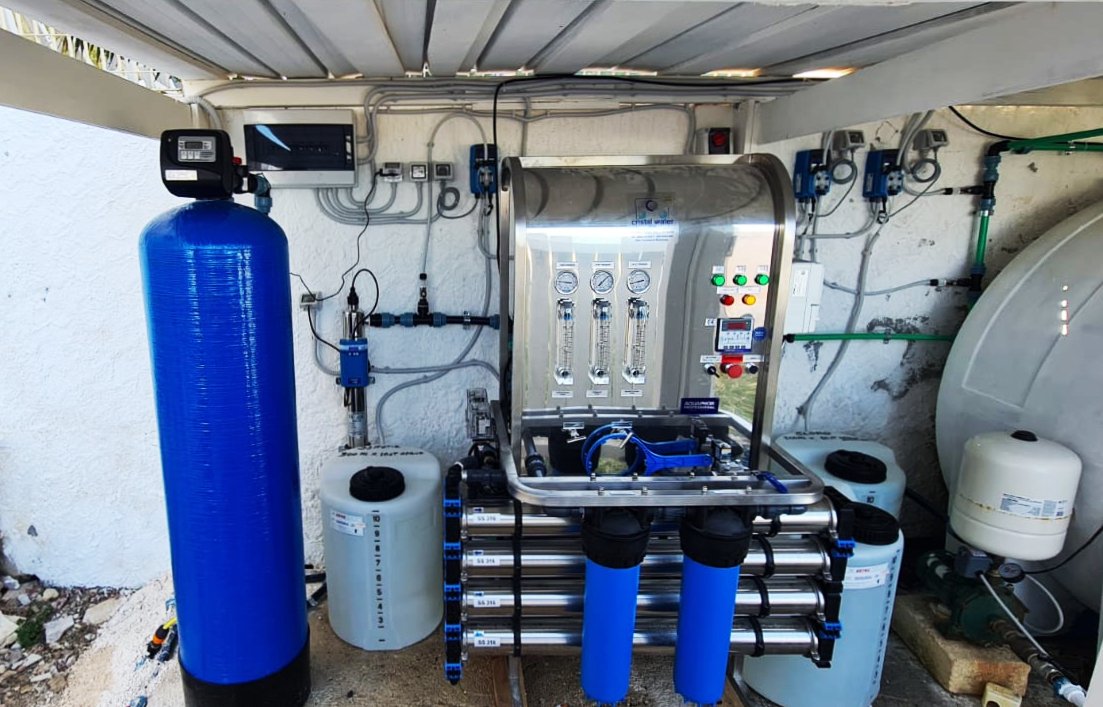 The Aquaphor Professional RO-SYSTEM APRO-L-1500-32X-G osmosis unit nominally achieves 1500 liters per hour at a temperature of 25°C.
Project data
Capacity: 1500 liters/hour
Process: RO
RO recovery: up to 95%
Salt rejection rate: up to 95%
Features
High energy and water savings thanks to patented technologies
Solid and fully automated
Innovative pre-filtration system
Low operating cost
Long life service
Sodium hypochlorite at 14-15%, dosed with a metering pump, has a high reactivity and oxidizing capacity and easily combines with the oxidizable organic and inorganic substances in the water, effectively disinfecting the treated water.
The remineralising product based on calcium chloride, dosed with a metering pump, reintroduces in a balanced manner certain components that are indispensable for the organism, in particular sodium, calcium, chlorides and carbonates, which are the elements naturally present in water and which make it pleasant and chemically complete for human use.
The 'LDOSIN PLUS 90-240V' tool, in combination with probes, enables the process and control of osmosis in industrial plants.